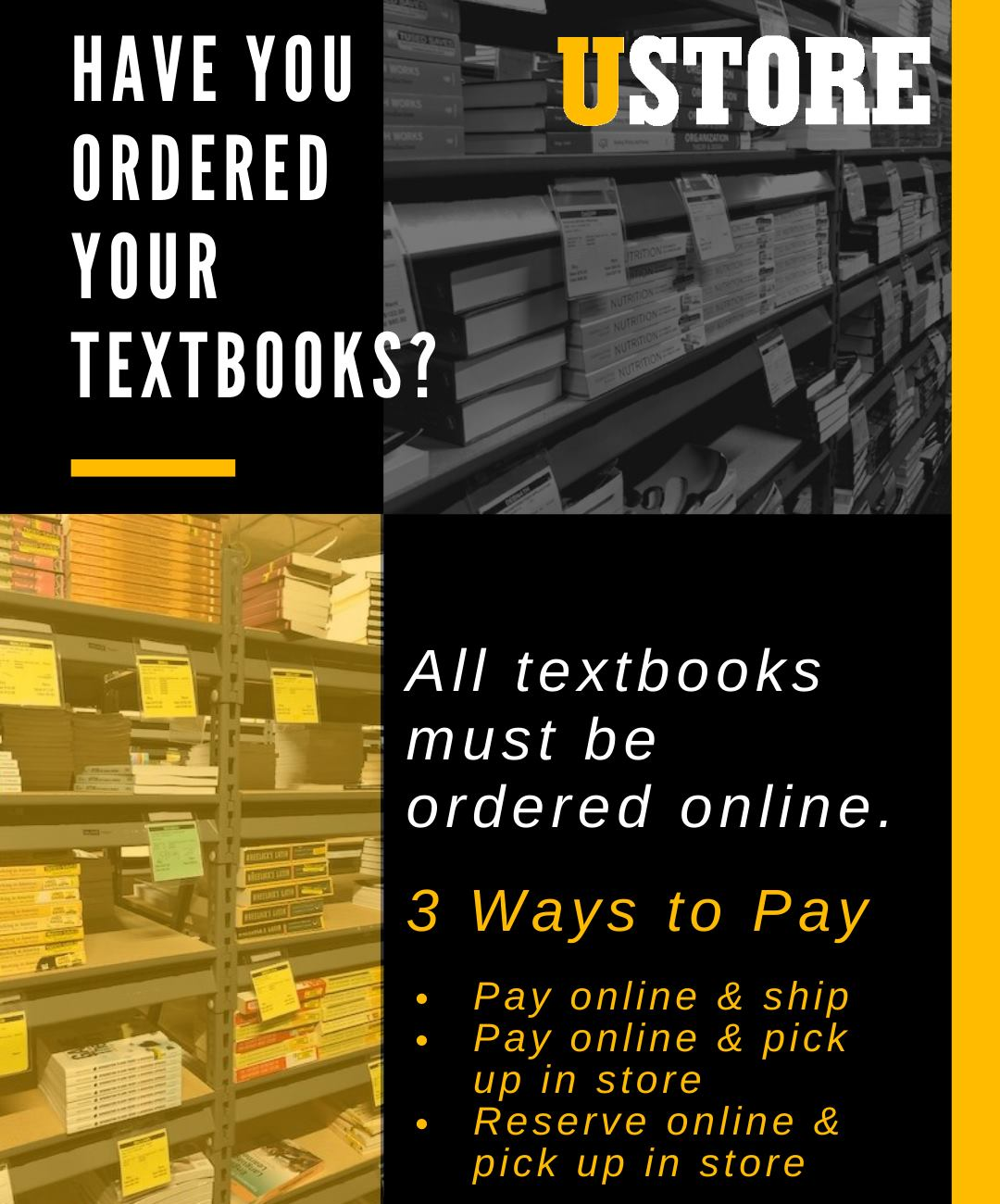 In-store

textbook shopping is

suspended

until further notice.

We currently offer

FREE Shipping

or

In-Store Order Pickup

at our 2nd floor patio entrance!

Shipping Delays:

Due to limited COVID-19 operations, order processing/shipping may require additional time. (eBooks process immediately!)
ONLINE ORDERING INFO
You may pay online using Visa, MasterCard, Discover, and UStore Gift Cards or choose the

"Pay at Store"

option to have your

textbooks reserved

.

Course materials listed are those adopted for the course --

not representative of the NEW/USED availability

and

prices are subject to change

.

We will

only charge

you for what

items we can fulfill for your order

and at the time of processing.

If an item is

back-ordered

, you are

not charged until the item arrives

. This may mean that your order is processed in

multiple shipments

.
"PAY AT STORE" TEXTBOOK RESERVATIONS
Your books will only be held for

5 days

following the start of the semester.

Materials not claimed by the deadline will be

re-shelved

and you will need to place a new reservation.

You may pay in-store using Apple Pay, OneCard Retail Points, Visa, MasterCard, Discover, and UStore Gift Cards.

Cash payments

are currently

suspended

due to COVID-19, but will resume soon.

We also offer Price Matching and Textbook Advances!
COURSE RECOMMENDATION CODES
Required

– You are required to purchase the book.

Recommended

– The text will be used in class, but it is not required for the course.

Component

– Components are the pieces that make up a package. If a book title ends in (PKG), then the separate components may also be available.

Either/Or

– You must choose one of the two options given.

Choice

– You must choose one of the "choice" options.

Used Books and Rentals

– Supplemental materials (access codes, DVDs, workbooks) are not guaranteed.
NEW & USED BOOK PREFERENCES
During checkout, you will be asked if we may

substitute NEW/USED

conditions for items in your order.

If you choose to

allow substitutions

, we fill your preferences based on availability and use alternate conditions if your preference is out of stock.

If you choose to

NOT allow substitutions

, and the selected condition is not available, the item WILL be

removed

from your order. To avoid cancellation, always choose to allow substitutions unless you are otherwise adamant about condition.

A popup (like the image shown below) will appear to ask you to agree to condition substitutions...